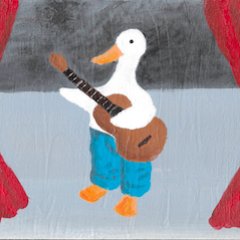 E.G. Phillips
Ducks With Pants Music
Songwriter
San Francisco, CA
duckswithpants.com
E.G. Phillips is a San Francisco based songwriter who creates songs with his own special blend of whimsy and poignancy. Focusing heavily on lyrics, his musical influences range from old school rock and folk to classic jazz.

​E.G. has been the "Songwriter-in-Residence" at Bazaar Cafe (September 2015 and April 2017) and a featured performer at the Cafe International and Hotel Utah. In August of 2016, he hosted the first "E.G. Phest," inviting various local singer/songwriters to cover his songs for his birthday celebration. He's also been a participant in Theo McKinley's "Local Vocals" program, playing at the Hotel Carlton and Swank cocktail lounge as well as a volunteer in the "Bread and Roses" charity organization. He comes from a country called the Midwest and "Ducks With Pants" is the name of his fake band.

E.G. released his first album "Fish from the Sky" in early 2017. It's a collection of well worn originals he's performed around the Bay Area for many years.

Talk to him about sync licensing and recording his songs.